Need Help? Click Here To Get In Touch
Security & Privacy
Privacy Notice
Your privacy rights
Here at Rustica Hardware we really appreciate the trust you place in us, and we acknowledge that you are sharing personal information with us. We are a customer based company and 100% dedicated to respecting your privacy and values. Your information is secure with us. We guarantee your privacy!
Any changes to our privacy policies or our company policies are always posted immediately for your security and reference. We strongly encourage that you review our policies periodically to ensure your awareness of all our policies.
Rustica Hardware reserves the right to change and modify in any way any portion of the terms and policies listed here at Rustica Home.com.
Rustica Hardware reserves the right to add, remove or alter any portion of these policies at any time and the customer agrees to review all policies before making any purchases. It is the customer's responsibility to stay informed with all policies and procedures.
Rustica Hardware guarantees that your private information including ordering information and credit card transaction information will be safe whenever you place an order with us.
We take every possible precaution to protect our customers from any unauthorized charges. If you suspect that you are a victim of any type of theft you must immediately notify the credit card company and all others involved. If Rustica Hardware is involved, please notify us within 30 days and we will be glad to help. If you wait longer than 30 days Rustica Hardware is not held responsible to reimburse you in any way.
Children's Privacy Policy
Our website is strictly not intended for any use whatsoever by children under the age of 13. Rustica Home does not knowingly gather any personal information from children under the age of 13.
Hardware Application
Standard: One door, single track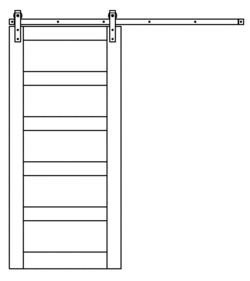 Bypass: Two Doors, multi-track setup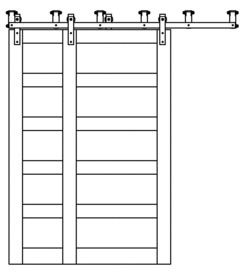 Bi Parting: Two Doors, single track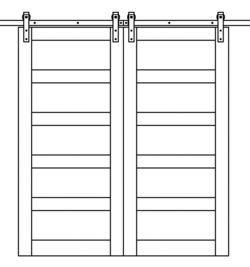 Getting Your Track Length
For best results the track length should be a minimum of double the width of your door.
Example: A 3ft wide door needs a minimum of a 6ft track.
Please Note: Any track length over 8ft will come in seperate segments which will be easy to combine with provided Splice Plates & Hardware.
Example: A 5ft wide door will need a 10ft track which will come with 2 5ft segments.
If you require a size not listed call in for a custom order as we can fabricate any track length or customize the track to your needs.
International Customers, Please Read:
Based on your track dimensions and variable shipping requirements your track will be separated into smaller segments to save you shipping costs, splice plates and all necessary hardware will be provided for you to combine them.
Track Holes
If your wall does not have solid blocking you can order with no holes, and drill yourself to align the holes to your studs.
It is important that when installing your track, your lags go into something solid. You cannot lag into just the sheetrock.
Pre-Drilled Track: A Pre-Drilled Track will work for you if you have an interior or exterior header/blocking to lag into. Our Tracks are drilled to evenly space the weight. They are NOT drilled to hit studs.
No Holes: Getting a Track with No holes is best if you are planning to lag into your studs. This makes it so you can drill the holes on site to line up with your studs.
Door Kits

Most of our doors are offered as "Door Kits" (The door itself comes in pieces). A Door-Kit requires some assembly of the door slats, where as an Assembled Door requires no assembly. Neither option includes installation of door hardware.
If a Door Kit if ordered, you will receive a box approximately 7' x 1' x 6" (sizes vary depending on order). Typical assembly time is approximately 45 minutes.
Assembled doors will be shipped via Freight and will arrive in a crate. Please note, the hardware is not installed on the door in this option.
NOTE: UPS Hub Pickup
"It is our aim to provide our customers with as many options as possible but occasionally that can make things difficult to ship. Due to shipping restrictions all doors, not shipped as a kit (unassembled), that are over 5 feet wide and 7 feet tall will be shipped to the UPS hub nearest to customers desired address. The customer will then be responsible for transporting the item(s) from the hub to the desired destination.
Door Width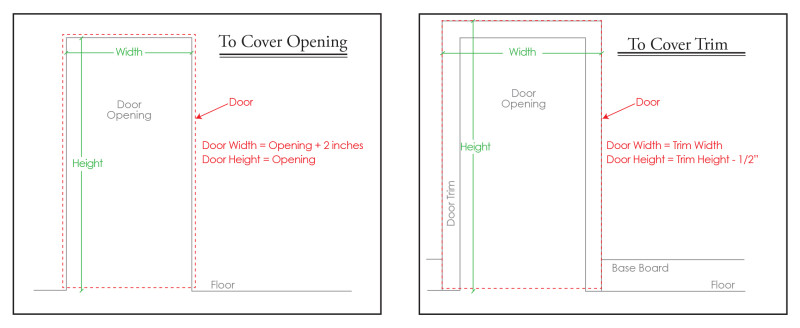 Door Thickness
If you are ordering a door from Rustica, leave this option as Standard
If you have your own door measure the thickness and round to the nearest quarter inch (our spacers are adjustable to many ranges).
Trim / Baseboard Thickness
The depth of your trim and baseboard from off of the wall (if the thickness of your trim & baseboard is different, select the thickest point).
If you plan using a external mounting header select no trim.
Additional Hangers
Additional Hangers are needed for doors that are greater than 5ft in width (1 extra per door greater than 5ft)
Hinge Placement Instruction
Measure the existing slab, that you're wanting to replace, from the top of the door to the top of each hinge. You will format your entry in this format: Hinge 1- 10" from top of door. Hinge 2- 22.
Lift Gate Service
By selecting this option a freight truck will come equipped with a lift gate which unloads your heavy products to the curb
Door Accessories
Spice Rack
The spice rack is great for holding an assortment of items.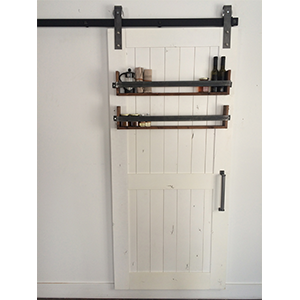 Stories Told Bookshelf
Four shelfs total, our biggest bookshelf.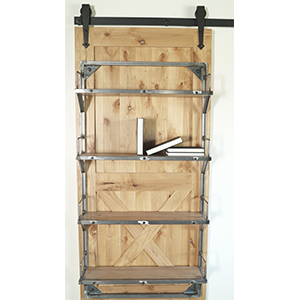 Steam Engine Bookshelf
Two shelfs, with a beautiful design.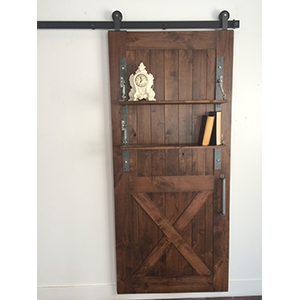 Coat Hanger
The perfect coat hanger for any office or home entry.